Children Learn Karate from 5+
Yes, we can teach children from the age of 5 onwards. In all honesty, every child is different and their level of interest and their attention span are huge factors in whether they will learn with us. That's why we offer free trial lessons -just so that you can make sure that these are the right classes for your child.
Click here to give us your details for further information.

Children gain discipline, confidence, and self control as well as those vital self defence skills in our martial arts classes. Of course, it is also taught when and where the use of physical defence skills are appropriate so that those techniques are not practiced at home or in the playground without a Karate teacher present.
Chief instructor John Burke first began teaching children in 1996, and in the years since then he has formulated various methods of imparting knowledge and motivating youngsters. Parents often comment on how strange it is to find so many children having fun but also remaining disciplined and learning lessons that will help them through their whole life, not just in Karate.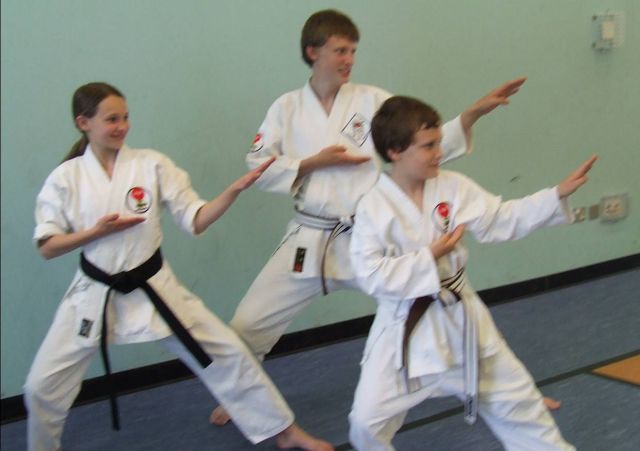 We do not treat children as second class citizens. They are expected to learn the same way that everyone else is. Oh, we know they cannot be as physically strong as an adult, but at the same time, in order to increase their self respect and courtesy to others they should not be treated like they are in the playground, either. Of course they have fun, but they do it by learning in the correct environment rather than by pandering to the lowest common denominator in each group.
If training with your child is something that you want to do, you can - the classes are open to all ages. You could choose to train at a separate time so that you get quality time apart, but sharing in the martial arts with your child can give you a bond that surpasses the usual family discussions about what not to eat and tidying their rooms. You can talk about "Would sensei say that this was the right or wrong way to behave?"

If you would like to see your child thrive in a "Juniors Only" environment, then perhaps the Saturday morning 9.30am session is for you. Sensei Deborah takes the children who are still at Primary School but too old for Little Warriors through a fast-paced class designed for young attention spans. Our Tuesday and Thursday 5pm lessons with Sensei John in Newton Abbot are also for Juniors only.

To try us out, and find out how we can make a difference in your child's life, call 01626 360999 or email here .
Obviously, we think our classes are the best thing for children's confidence. To ensure that you think so too, come along for trial lessons.
To see how to tie your belt, please go to this page
Now, we also have our Little Warriors classes. These are pre-martial arts classes with a separate grade system to help younger members get a grip on the requirements of a full Karate class.
The classes are fun, taught by Sensei Janet, and Sensei John; and are shorter to help those short attention spans. Based around co-ordination, balance, and learning to do what they are told, 4-7 year olds should jump in here, while older children will enjoy our main classes.
Monday 5-5.30pm, Wednesday 5-5.30pm and Saturday 9-9.30am in Newton Abbot
Tuesday 5.30-6pm in Torquay


If it is something that you are interested in, please email info@KarateAcademy.co.uk