Star Profile
July 2017:
Carl Tilling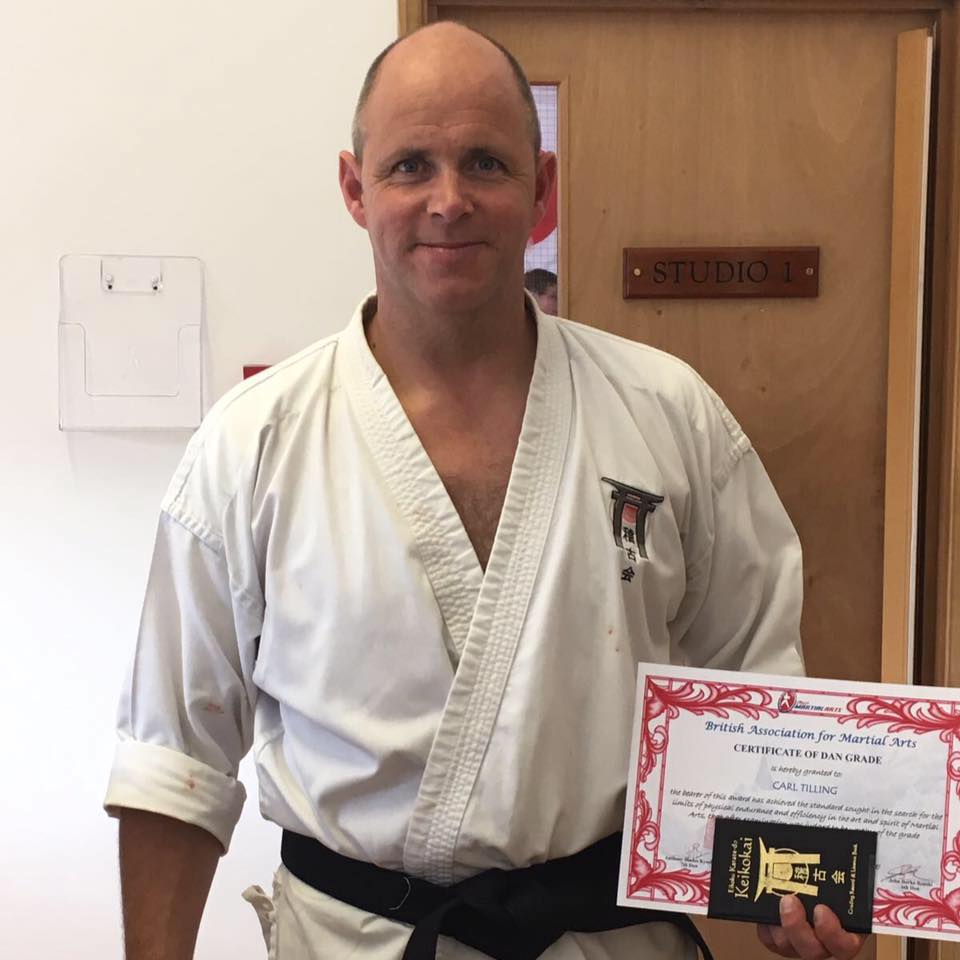 Can Karate bring people together? Well we certainly get to meet people that we otherwise might not have done. We've seen long lasting and powerful friendships formed. We've also seen family members who might usually not see each other for weeks on end find that they are sharing the same dojo for their training time and develop a new respect for each other as they go through their individual trials and tribulations with the support of each other. Our star this month is a grown man who has come a long way since he first walked into the dojo. It's not for us to tell you about the trials that he has faced, he can do that himself when you train alongside him. It is for us to point out that he always works hard, is constantly supportive, and will work with the same attitude with youngsters and adults.

Carl remains very humble when working with his seniors. Carl is not overbearing with the newest members - he remembers what it was like. It is fair to say that he relied on the support of his younger sister to get him through his Black Belt grading.

Carl trains regularly at Newton Abbot, and travels to seminars in places like Doncaster to meet great teachers and support ours when they are asked to teach on courses. You can meet him and train alongside him in the later classes, as he also works full-time in a very demanding job.


John Burke renshi: Carl is one of themost helpful people I know. He's tough, and that makes him good to work with in class, but he also knows when to scale it back for someone else's level of experience. Glad to have you along, Carl.

Natasha Barlow sensei: When I think of the word gentleman,I have a picture of Mr Carl Tilling pop into my head. He always greats everybody in the dojo with open arms you couldn't wish for a better front man. I have watched him from the early days until the time he achieved shodan,he continues to inspire and motivate me with his outstanding attitude towards training. He is always the first student to offer help to students in need. He goes above and beyond. He is a true gent,a man I am proud to call my friend. A well deserved student of the month

Clare Potter sensei: Since the day Carl started he has been a pleasure to have in class. He is a hardworking, determined and very loyal man. He is the first to help anyone in and out of the dojo. He inspires and encourages everyone he comes in contact with whilst remaining one of the most humble people I know. Congratulations Carl. Well deserved.

Andrew Power sensei: What a good man. A real pleasure to know. More Carls needed!

Keep up the good work Carl!

Come and join him.
Karate Academy, Newton Abbot, Torquay, Paignton, Totnes, Ashburton, Chudleigh, and Kingsteignton
head office: Karate Academy, King Street Studios, King Street, Newton Abbot, Devon, TQ12 2LG. United Kingdom
01626 360999
info@karateacademy.co.uk
© Karate Academy Ltd 2007 - 2016