Instructor Profile
November 2018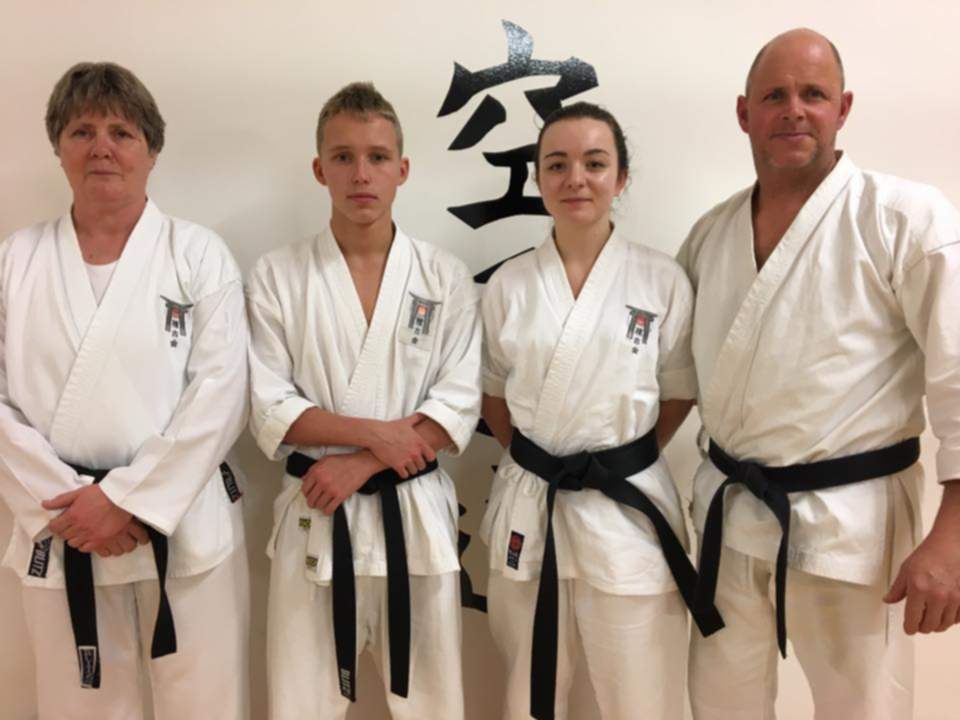 Actually, it was the end of September 2018 that our latest graduates from the Instructor Training Programme gained their Level 1 qualification. They are all Black Belts, have all been training continuously, assisting other instructors in class and studying the Instructor Training materials for the past year. These are the ones who passed the test and are now able to teach classes. Congratulations: Adam Castle, Janet Drew, Deborah Needham, and Carl Tilling.

Adam Castle
Private lessons with an enthusiastic young man? At Newton Abbot dojo you can also find Sensei Adam assisting Sensei John in the 5pm classes. He's an avid diver and fixes up his own machinery in his spare time, yet with his family's support he can be found training in Newton Abbot 3 times per week.

Janet Drew
The Little Warriors class in Torquay is taught by Sensei Janet. She has patience (she's a mother and grandmother) and discipline (she's a second degree black belt) mixed just right for the 4-7 year olds. You can also find her teaching private lessons in Newton Abbot, where she trains (regularly twice per day), fitting it in around work. Driving to different dojo doesn't bother Sensei Janet; she understands the benefit of learning from different voices and different classes.

Deborah Needham
The new Juniors class in Newton Abbot is where you will find Sensei Deborah. 9.30am on a Saturday morning, teaching the children who have graduated from Little Warriors but are not yet ready to train with the giants in the open classes. Deborah is an artist, musician, and working woman who can usually be found in Newton Abbot classes. Her schedule might be hectic, but she somehow finds time to fit in Karate, too.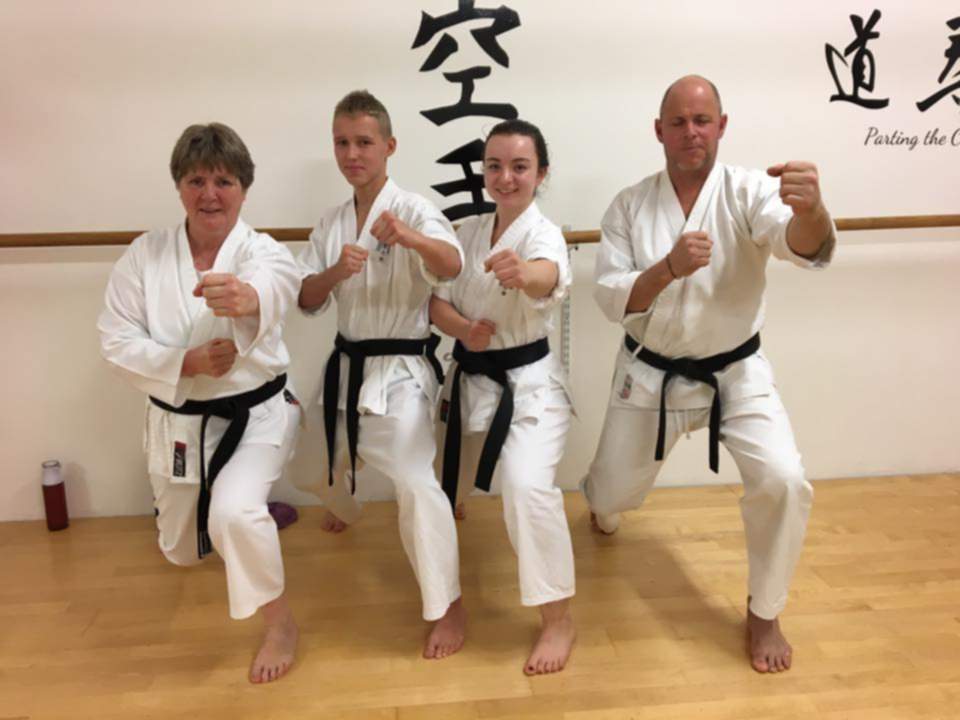 Carl Tilling
Famous for appearing in Sensei John's bunkai videos, Sensei Carl assists his sister, Sensei Clare in the Tuesday evening 6pm class in Newton Abbot and teaching private lessons on Saturdays. Helpful, caring, and known for his down-to-earth approach, Sensei Carl can be found training in Newton Abbot as well.
I'm really pleased to have our newest additions to our team of teachers. They all bring a fresh perspective to the dynamic and the students will only benefit from their insight. It has been a pleasure working with them, and they all deserve to have the determination and hard work they have put into passing the ITP course recognised as being instructors in their own right. Well done I am proud to have you with us. - Lee Warren sensei, 4th Dan
What
a great and wonderful addition to our teaching portfolio they all have become. All individuals and bringing their own experiences to the table. Fortunate to train with them all from time to time. Well done to you all and my gratitude goes to you all. - Jim Wight sensei, 3rd Dan
All of the new instructors have worked hard to get where they are today. Every one of them has the tools to give all students of the Academy the help they need to improve on our personal martial arts journey. They all bring an enthusiasm and energy and only enhance the current instructor pool. I personally feel lucky to have them by my side. - Natasha Barlow sensei, 3rd Dan.
October 2018
Andrew Power
Is it the military bearing? Or the wry humour? His sheer physical strength? Or his ability to grasp the concepts at the heart of a technique? Any of these things could make Andy a good instructor, but perhaps it's his heart as he deals with his family of 4 children (all training) and balancing his work life outside the dojo that is most admirable.

With the support of his lady wife, Andy and his children come to the dojo to train, and develop, and Andy became a teacher who commands respect and remains as helpful as they come.

You can train alongside Andrew in Newton Abbot in most of the morning sessions and a Tuesday evening. You can find him teaching the Thursday Ashburton lesson, and helping us with grading too.
Dedicated, talented, knowledgable and humble are just a few of the words I use to describe Sensei Andrew. I always watch Andyís lessons in awe. If you get the chance to train with this gentleman I urge you to do so. A massive part of the karate team Andy is well respected and I am honoured to call him my Sensei and friend.
- Clare Potter sensei, 3rd Dan.
The other half of team Ashburton sensei Andy is a very knowledgeable teacher he blows my mind with some of his questions and answers to questions. He has a real passion for the art we all love and that comes across in the way he teaches. A true gentlem
an and someone I feel very lucky to know and to call my sensei. We are lucky to have him as part of our crew. I would recommend everyone go and train with Andy over at "the bucket"
- Natasha Barlow sensei, 3rd Dan.
Outstanding gentleman and privileged to have him with us all. He has his wit and makes me smile seeing him teach. Honourable Karateka
- Jim Wight sensei, 3rd Dan
Sensei Andrew a true gentleman,with a vast amount of knowledge.Always hard working and very helpful and a pleasure to work with.X
- Janet Drew sensei, 2nd Dan
Sensei Andy has a unique approach towards training. He has an untold ability for reinventing and changing common terms into a brand new style, different to any other. He is also a very calm and consolidated person who is willing to attempt anything thrown at him.
- Adam Castle sensei, 2nd Dan
Sensei Andrew is a true gentleman to talk to and work with his knowledge is unbelievable,if you ever want to test yourself against someone who has got true power and speed heís the guy to train with .
If you get a chance go train with him at Ashburton you wonít be disappointed
congratulations
Andy Well Deserved
- Carl Tilling sensei, 1st Dan.
August 2018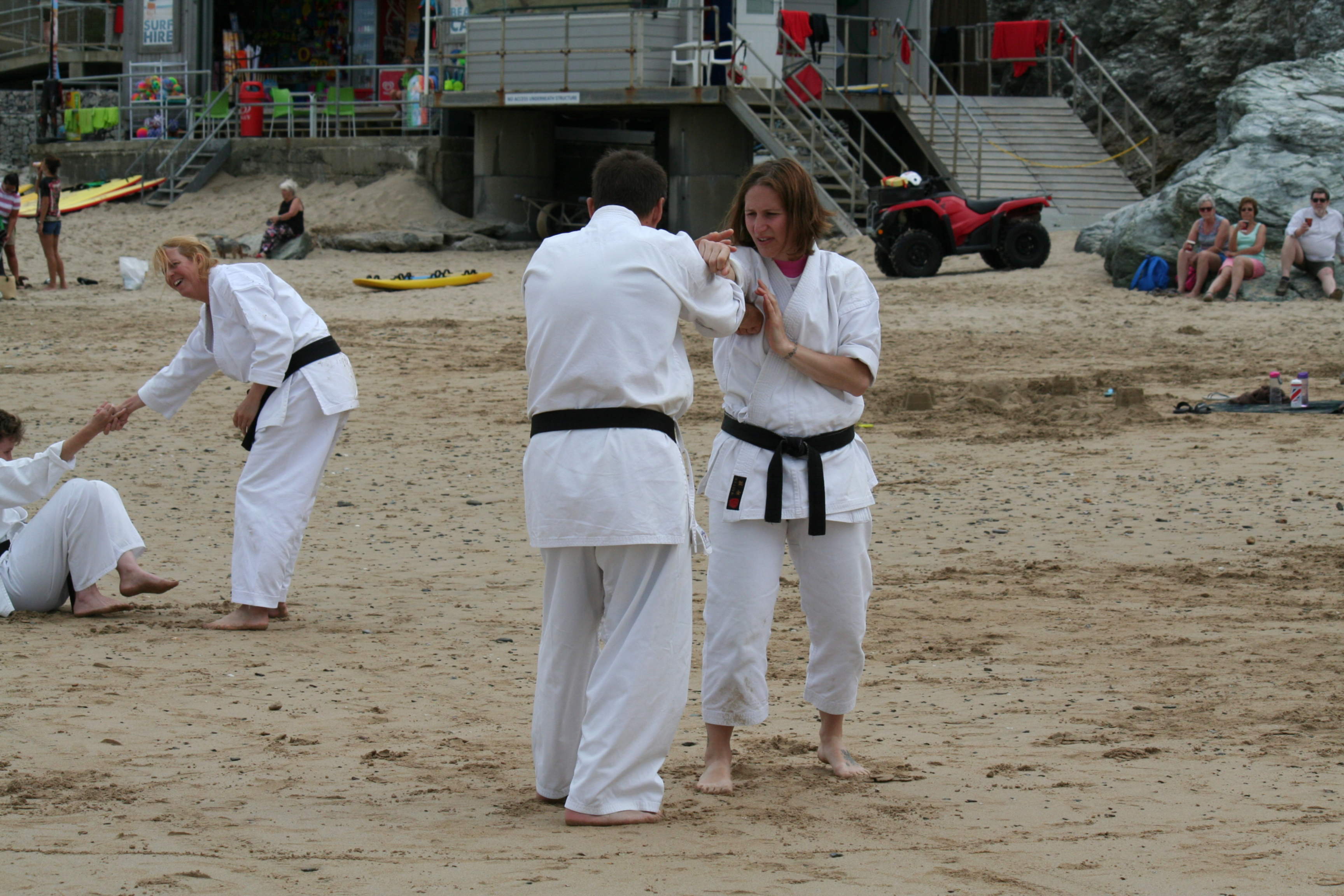 Nicola Carrick
Nicola, like a lot of people, started training alongside a couple of friends. Time passes, and people find reasons not to stick around, and nowadays Nicola is the only one of them still getting her gi on. The martial arts can be a long journey, and those willing to continue their investigation find lots to keep them going alongside those occasions where they are reminded that there is a lot more still to learn.

Like the other female Karate-ka in our club, Nicola embodies a strength of character and determination that some see as beyond their reach. Yet this caring lady and mother makes time for training alongside the demands of work and family.

Whether being married to a 4th degree black belt of many years experience is a benefit to her training is a source of some conversation. You can see why it would be, and we are pleased to see that Nicola is also of a strong will so that she carves her own path in the martial arts, not resting on the coat-tails of anyone else.

Nicola's youngest daughter is now taking part in the Little Warriors classes in Newton Abbot.
At the current time, Nicola is a sandan (3rd degree black belt). She teaches on Thursday evening in Newton Abbot and trains on Tuesday and Sundays whenever possible. She is a valued member of the examination board and also teaches private lessons.
What can I say except I've seen her grade from a White belt to black belt and just grow and grow in skill and technical ability. She is the other half of team Ricola and in my opinion probably the best half.
I am immensely proud of Sensei Nicola and what she has achieved through dedication and hard work.
She has become a fine teacher and should hold her head high, a great asset to the team of instructors
- Richard Carrick sensei, 4th Dan
I had the privilege of mentoring Sensei Nicola when she started on the ITP [Instructor Training Programme] course, always attentive, studious and hard working with a passion to obtain martial knowledge. I am really proud of the teacher she has become, she is a credit to the club and
to her own aspirations and motivations. I am also dying to get my hands on her secret notebook she has been keeping since she started her journey in Karate!!! Find the time to train in one of Sensei Nicolas classes.
- Lee Warren sensei, 4th Dan
Nicola has a strong personality that shows in her determination throughout her training and teaching, always asking questions and helping out when she can.
Not afraid to give anything a try and with any partner to challenge her.
She's always grateful for any guidance given especially from Sensei Lee Warren and enjoys his teaching ways, a valued member of the team of instructors. Well done Nice
†
-Jim Wight sensei, 3rd Dan.
†
I have seen sensei Nicola grow in ability and confidence and has become a fine teacher in her own right. Her down to earth and honest attitude will make sure each person develops to their best potential. Sensei Nic continues to study hard so she can be the best for her students.
- Clare Potter sensei, 3rd Dan
Sensei Nic and I started our instructor journey together. In the years that have followed we have shared giggles, sweat and some hair pulling, quite literally hair pulling. She continues to work hard for her students and for her own karate study.
- Natasha Barlow sensei, 3rd Dan
†
Sensei Nicola,a great Instructor in her own right. I always enjoyed attending Nicola's lessons on a Thursday night,and now have the pleasure of assisting for her at these lessons. She is very well liked by the students which shows by the numbers she has at her lessons. She has also helped me a great deal over the last couple of months in my private lessons too.
Congratulations
Sensei Nicola,very well deserved and thank you.XX
- Janet Drew, instructor-in-training, 2nd Dan
†
I really appreciate Sensei Nicola's down to earth attitude and fearless approach, but I also like her good example of honesty and humility. She makes no attempt whatsoever to portray herself as anything special, instead allowing her considerable abilities to speak for themselves.
- Andrew Power sensei, 2nd Dan
Sensei Nicola has a true sense of the martial spirit, the unyielding sense of her grit and determination towards our art is a given. Sensei Nicola always has an enthusiastic approach towards classes she is an enthusiastic teacher with engraving results.
- Adam Castle, instructor-in-training, 2nd Dan
†
Sensei Nicola is really down to earth and a very approachable Person , she is a fantastic teacher and always willing to help, also all the students love her and the way she teaches as her classes show getting bigger and bigger go train and find out for yourself on a Thursday night you wonít be disappointed.
Congratulations Sensei Nicola
†
- Carl Tilling, instructor-in-training, 1st Dan
July 2018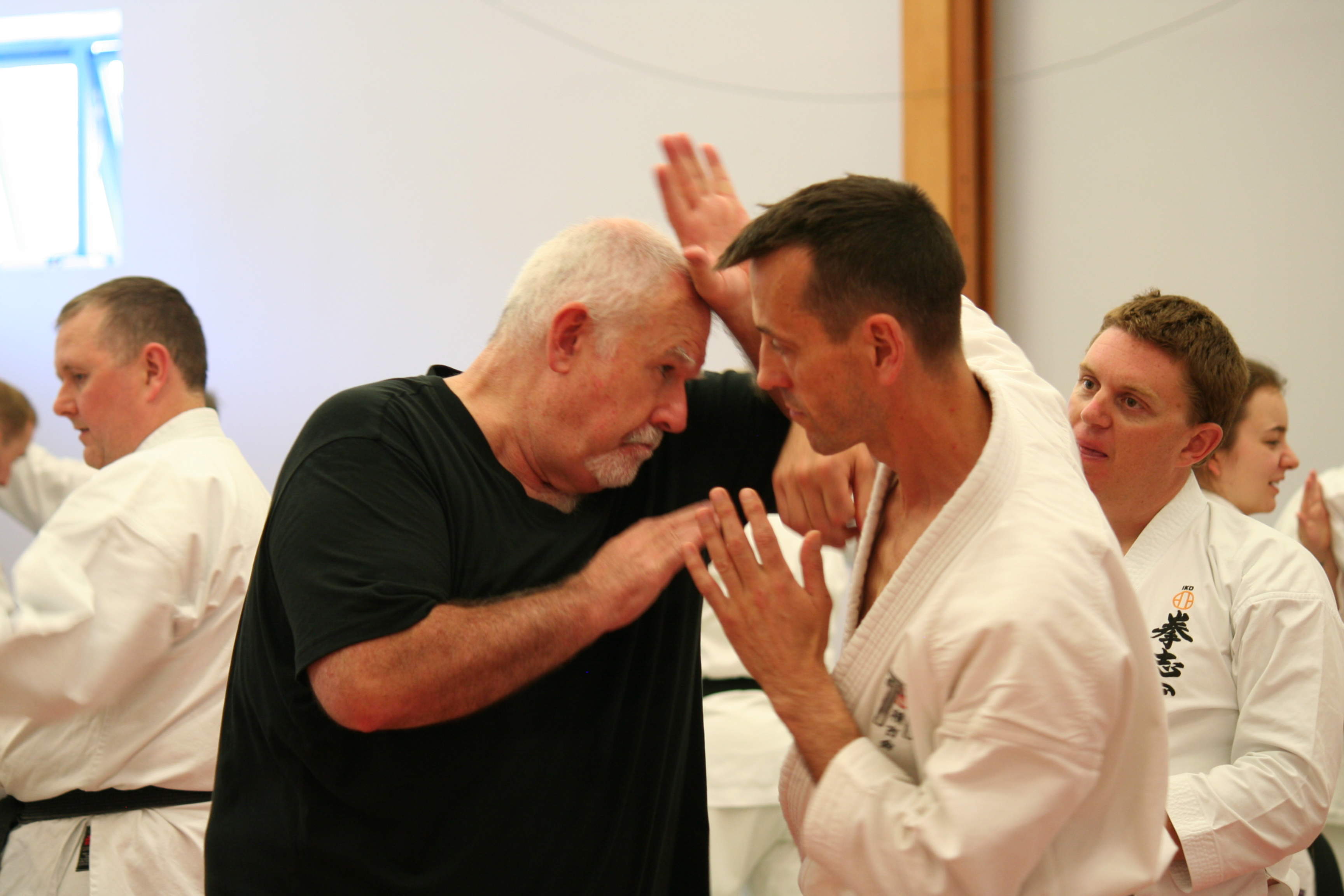 Zack Morgan
Zack came to us as an existing Black Belt from Kanazawa Sensei's group. His dynamic style and flair come through in every session. Having lived in Japan, Zack's knowledge of their language and culture is a huge benefit to our members. He started training in the 1980s, but 12 years after his return to England found "a Karate that makes sense to me, here in England".
Since March 2008 Zack has found himself graded to currently a sandan (third degree black belt). He's pictured here on a seminar taught by Patrick McCarthy 9th dan hanshi, showing once again that the learning never ends.

This dedicated father of 3 can be found training at Newton Abbot during the daytime sessions, is a valued member of our examination board and sought after instructor of private lessons.
Sensei Zack has been a great asset to our family here in the Karate Academy, willing to help us and learn at the same time.
Challenging opponent for sure, although great to train with when I get the opportunity too, everyone should take advantage of him when he is on the mats- teaching or training. Jim Wight Sensei, 3rd Dan
†
If you want speed, power and strength in your karate you wonít go wrong by training under or along side Sensei Zack. He is a very quiet and humble man but his ability speaks volumes. Sensei Zack is a very valuable member of the Karate Academy team and I feel lucky to be able to train with him. Clare Potter sensei, 3rd Dan
Sensei Zack, the man that is always at my right hand side literally. A man that I have continued to look up to. A gentle man with a snap in his gi, I continue to chase him and aspire to be as good as the man himself. Always trying to keep up with his sp
eed. A man that amazes me with his talent for teaching and training. He has swept my leg many times but he makes you want to get back up and try again. I truly love being next to him in line and feeding off his martial spirit. Natasha Barlow sensei, 3rd Dan
Sensei Zack is a very quiet polite gentleman who is always willing to help and give advice should you need it. However he is also someone that will make you work hard, he will challenge you and himself too. Great person to spar with as you have to move fast to get out of the way of those fast,far reaching kicks of his.
Congratulations
Sensei Zack.x Janet Drew, instructor-in-training, 2nd Dan
Sensei Zack has always been a very calm and consistent person. He is somebody who I look up to with his speed agility and knowledge towards our art, he has always had an extremely focused attitude towards everything he does he is a great asset to our club. Adam Castle, instructor-in-training, 2nd Dan.
†
Sensei Zac is a kind and helpful person and always willing to help with anything you arenít sure on or you need answers on .
If you want to challenge yourself and test yourself he is a great person to train with.
Congratulations
Sensei. Carl Tilling, instructor-in-training, 1st Dan
June 2018
Natasha Barlow

Natasha made it to shodan (first degree Black Belt) in 2013. That's a long haul for member 074 who started training in the summer of 2001 (just before her
husband Lewis, member 075). Natasha can tell you all about determination. She also recognises that life's events and family occurrences can get in the way for even the most dedicated martial artist.
Training with Natasha in the Tuesday Ashburton class, you are in the hands of someone who puts themselves through Iron Man and marathon events. She's a keen cyclist and fitness fanatic, and she backs up her physical workouts with lots of background reading.
Natasha can also be found in the Little Warriors classes in Newton Abbot on a Monday and Wednesday. In fact her dedication to the group is so much that she will also attend the Saturday class with Clare and is about to begin an Ashburton class too. Little Warriors are our youngest section, and bringing out the best in these 4-7 year olds seems to be something of a mission for Natasha.

Natasha is also a valued part of our examination panel, teaches private lessons, and still trains regularly in the morning classes in Newton Abbot to continue her own progress. Currently ranked sandan (3rd degree black belt) Tasha also trains on courses and seminars. Come and join her.
Sensei Natasha is not one to shy away from a challenge. She will meet things head on and find a way to overcome anything. She is a real force of nature in the dojo, with a martial spirit that is second to none. If you want to see energy in action then
train with Sensei Natasha, a real pocket dynamo. I see Tash as a sister. No-one can sit through my ramblings about punk rock and 80's electronic music and still have a smile on their face better than Tash!!! Now thats a real pressure test! - Lee Warren sensei, 4th dan
Sensei Natasha is a very hard working teacher, wanting only the best for her students on and off the mat. She constantly works on her own studies and training to be the best she can be. Tash is someone I admire so much for her passion and enthusiasm for the Martial Arts. My partner in Little Warriors, I always watch in awe of her ability to connect with the younger students. I am honored to call her my teacher but more so my dearest friend. I urge everyone to train with her. - Clare Potter sensei, 3rd dan
Our littlein as I call Sensei Tash, always willing to help when ever she can. Takes time to help anyone that asks and sees who needs help too, dedicate to her karate although knows family comes first. Challenges everyone to improve and excel in everything too.
Proud of our little SAN Dan and glad sheís part of our group to train with and take positive feed back from.
Loves the fun we have training and travelling together on the bosses road trips to different venues.
Honoured
- Jim Wight sensei, 3rd dan
One thing that strikes me about Tash is that she never looks for excuses or reasons why something is not quite right, she just gets on and works on it. She brings that approach to instructing too, which makes her admirably direct but also upbeat, positive and enthusiastic. - Andy Power sensei, 2nd dan
The enthusiastic way that Tash approaches lessons, whether she is training or teaching is infectious. As an Instructor she'll work you hard, but you'll have fun doing it. As a student she works just as hard as anyone else and will ask the questions everyone else is thinking. A great Instructor,student and friend.X - Janet Drew, instructor-in-training, 2nd dan
I am so pleased and honoured to say she is one of my true friends , she always gives a hundred percent to helping people and always makes you feel welcome when you see her , sheís a fantastic instructor, I would like to say a big thank to Sensei Tasha for all her help over the years , if you get a chance go and train with her .
Well done Tasha x - Carl Tilling, instructor-in-training, 1st dan
Sensei Tash is practicly my karate sister i had the privilege to train with her many years. She is the person who got me to where i am today. She is one of the most kindest, understanding and thoughtfull people you will meet. Sensei Tash has a true unstopable sense of martial spirit if you want exellent quality lessons with a approachable person go to sensei Tash. - Adam Castle, instructor-in-training, 2nd dan
†
April 2018:
Clare Potter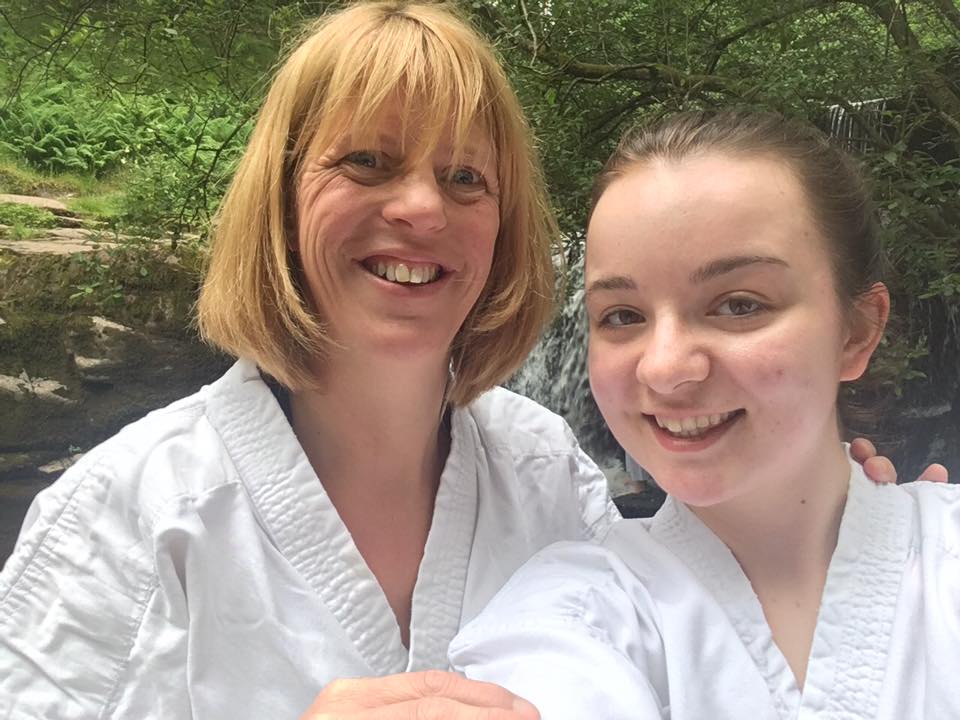 Our most senior female instructor is Clare Potter. In this environment of kicks and punches, the Karate Academy is proud to have such a great balance of men and women, boys and girls. And that one of our women made it to Sandan (3rd degree Black Belt) and paved the way for others to do so is a fine thing, too.

Clare is a wife, mother, and business woman as well as a Karate teacher. She is at home with the smallest Little Warriors class, Ladies Self Defence sessions, or teaching big lads in the general classes. Yet she hasn't become some kind of muscle-bound she-devil.

She has a reputation in sparring, and still manages to make nervous ladies feel at home in her "Women Only" Karate classes. Clare remembers how it was when she started with us. Initially only coming in to drop off her sons. Responding to the frequent "Shoes off, on the mats" glib comment with "Right, then, I will". When her children moved on to doing other things, Clare stayed. She has travelled across the UK to train on seminars and courses, and is a prime motivator to getting the mats busy with new people at events like The UK Martial Arts Show. She is recognised by internationally famous instructors for her dedication and conduct during these open sessions.

What all of this means is that you can come and join Clare in class. She's training in Newton Abbot on Tuesdays and Thursdays in the 7pm class and in the Sunday Brown and Black Belt classes, and if you want to learn from her she's teaching Tuesdays at 6pm, the Ladies Only class Wednesday at 6.30pm, and Saturday morning's Little Warriors at 9am and with Wednesday 4.30pm with Natasha. Clare is a valued member of the grading panel and also teaches private lessons.
Sensei Clare is one of the Karate Academy's most valuable teachers.
She has a fantastic energy and presence she brings to the dojo when she teaches, that sweeps you along. She is a knowledgeable and adept martial artist, the success of her women's self defence classes are testament to that. She is ever present and alw

ays on hand for advice and support. I would urge anyone to train with Sensei Clare whenever you can, I can't sing her praises high enough (talking of singing Clare is always the ringleader on a road trip singalong!). Privileged to be be her friend! - Lee Warren sensei, 4th dan
Clare Sensei has been and still is an inspiration to me with her attitude and how she teaches and performs in class. My dojo sister and one of the most influential people I have had the pleasure to train with.
If there was a pedestal I would put her on it
as for her commitment to us all, on and off the mats.
My trusted friend and confidant.
Congratulations
Clare Potter
on being given this place and being recognised for everything that you do and achieved. Our journey continues together although in different ways at times.
Proud to call you Sensei. - Jim Wight sensei, 3rd dan.
Clare Sensei is truely inspiring. She has helped me become the student and teacher I am today. My best friend on and off the mat. She works incredible hard helping the ladies from both the academy and around the country. Promoting what we do and making
them feel comfortable, so that they can have a great karate experience. She gives people the confidence to achieve their goals. She is never scared to laugh at herself, she makes a great good cop bad cop when we are working together. All the students love her. She is a great mentor to many. Hope she does not mind me saying but she is bad ass. One great Sensei. Works so hard not just physically but mentally always in Karate mode. - Natasha Barlow sensei, 3rd dan
Clare really is inspiring. She makes a point of facing up to things she finds hard, showing fierce determination. She is also disarmingly humble and humblingly friendly to all, making you feel valued and appreciated.
I know she will wince to read this, but she is a natural leader, drawing people to her and drawing people to trust her. She is not just another instructor, she is a truly exceptional one. - Andrew Power sensei, 2nd dan
Clare Potter
Sensei,a true friend both in and out of the Dojo.Always there to listen to when I need to talk to someone,there when I need a shoulder to cry on.Clare has helped , encouraged and supported me in my journey as she has with many others.An inspirational lady who many ladies including myself look up to and admire. Janet Drew, instructor-in-training, 2nd dan
Sensei Clare is a true inspiration for the club. She has had an influence on every one that has met and trained with her. Sensei Clare is a very approachable person who always has a smile on her face. She is a great teacher for everyone and anyone. You will never have a bad lesson with sensei Clare. - Adam Castle, instructor-in-training, 2nd dan
Well what can I say apart from
Congratulations
, Iím proud and honoured to call you my sister and Sensei your are a inspiration to us all and to train with, you never mind helping anyone, and on that note if it wasnít for your help and guidance I woul
d of struggled on my journey to black belt so a massive thank you to you for your help x.
Now I start my teaching journey under your supervision and Iím really proud to be there sis keep up the great work love you xxxx - Carl Tilling, instructor-in-training, 1st dan
March 2018: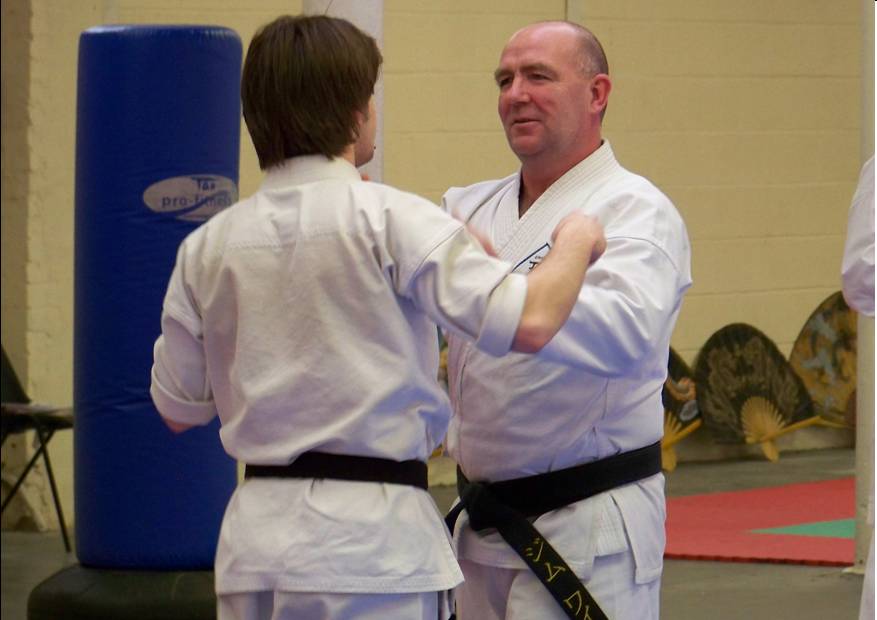 Jim Wight
In 2007 we met a man from the far reaches of Scotland. He wore a white belt and it upset people when he next came in wearing a brown belt. But you see, Jim was just being humble. He was very experienced but was willing to start again. He didn't need to. He knew his stuff. From there he has grown and excelled. He gained his Shodan, Nidan, and is currently a Sandan (3rd degree black belt).

A father of 3 grown up children, Jim and his lovely lady share their beautiful home with some characterful doggies.

Jim travels up to Scotland to teach seminars at his old club, and even for other arts who find his advice and methods useful. He has also travelled across the UK with Renshi John. Thankfully never tires of driving, as he has transported John and others to Inverurie, Old Meldrum, Nottingham, Doncaster, Burton-on-Trent, Surrey, London, Essex, Manchester, Brecon, and Birmingham amongst others. He does this so that he can keep his skills up to scratch and learns from others as much as he is a huge help to them.
"I find myself privileged to be part of this really great group of people"
he wrote in our 15 Year Anniversary book,
"being guided by as many like-minded people to whom I respect and admire for their guidance and commitment to all who make that step through the door."
We assure you, Jim, the respect is mutual.

Jim can be found teaching at 6pm in Torquay, alongside Sensei Lee. He also takes private lessons in Newton Abbot, and is a valued member of our grading panel. Come and join him
Sensei Jim is one of the true cornerstones of the Karate Academy. Softly spoken with a no nonsense approach to his teaching. Jim also has a devilish sense of humour, which makes him a joy to be around both on and off the mat. Training and teaching with him a is a real pleasure and his knowledge of the art should be taken advantage off whenever possible.
Jim is one of the most generous, unselfish and kindest person I have met in my life, people like him are rare. Always there, especially on a road trip (sorry for the singing Jim), Jim is a true ambassador for the club. Proud to call myself his friend.
- Lee Warren sensei, 4th dan.
Sensei Jim is the true essence of the art, loyal, respectful, hardworking and extremely humble. A very talented karateka and instructor who I would urge you all to train under. Sensei Jim has been and continues to be a massive part of my karate journey, I feel so privileged to have him in my life as my Sensei, Karate brother and true friend. - Clare Potter sensei, 3rd dan.
Jim is a true Sensei on and off the mat. He has been my teacher and friend for many years. He has help guide me on my karate journey. Taught me many things and kicked me up the butt when needed. A gentleman in every sense of the word. A man I am proud to call my teacher and friend. We at the Karate Academy are very lucky to have him. He inspires me to be stronger and kinder. - Natasha Barlow sensei, 3rd dan.
Jim is a charming and fun person to be around. He does not seem to take things seriously until he is on the mat, when a different side to his nature shows itself. What I particularly appreciate i
s his imagination and his attention to detail. He can see bunkai possibilities that elude most of us, while he still sees the value in working on getting our feet facing the correct direction; even if it is a struggle, he encourages us to keep trying. - Andrew Power sensei, 2nd dan.
A real privlege to say that
Jim Wight
Sensei is one of my regular instructors.He has encouraged me to learn and explore my project Kata Seipai on my own,but is always there to answer any questions or queries I may have. A gentleman both in and out of t
he Dojo,always willing to listen and advise with any concerns you may have.Jim will work you hard,while he encourages you to be technically correct.He will challenge you to come up with your own ideas on Bunkai,and will help you to push it just that bit further. x - Janet Drew, instructor-in-training, 2nd dan.
Sensei Jim is a person who gives you a voice in your training by leading you to realise your errors and asking you how you will be working on them, He is always a welcoming face who is very consistent in his training. he has a wide range of knowledge from different backgrounds. And he is an all-round pleasure to train under. - Adam Castle, instructor-in-training, 2nd dan.
Sensei Jim Wright is a true pleasure to know and train with heís a true gentleman .Iím lucky to be able to call him my friend , he has helped me with all different questions to do with the martial arts and shown me many different applications, he has endless amount of knowledge and is always willing to give you help .
He also gives you endless amount of support on your karate journey ,
congratulations
Sensei
- Carl Tilling, instructor-in-training, 1st dan.
February 2018:
Lee Warren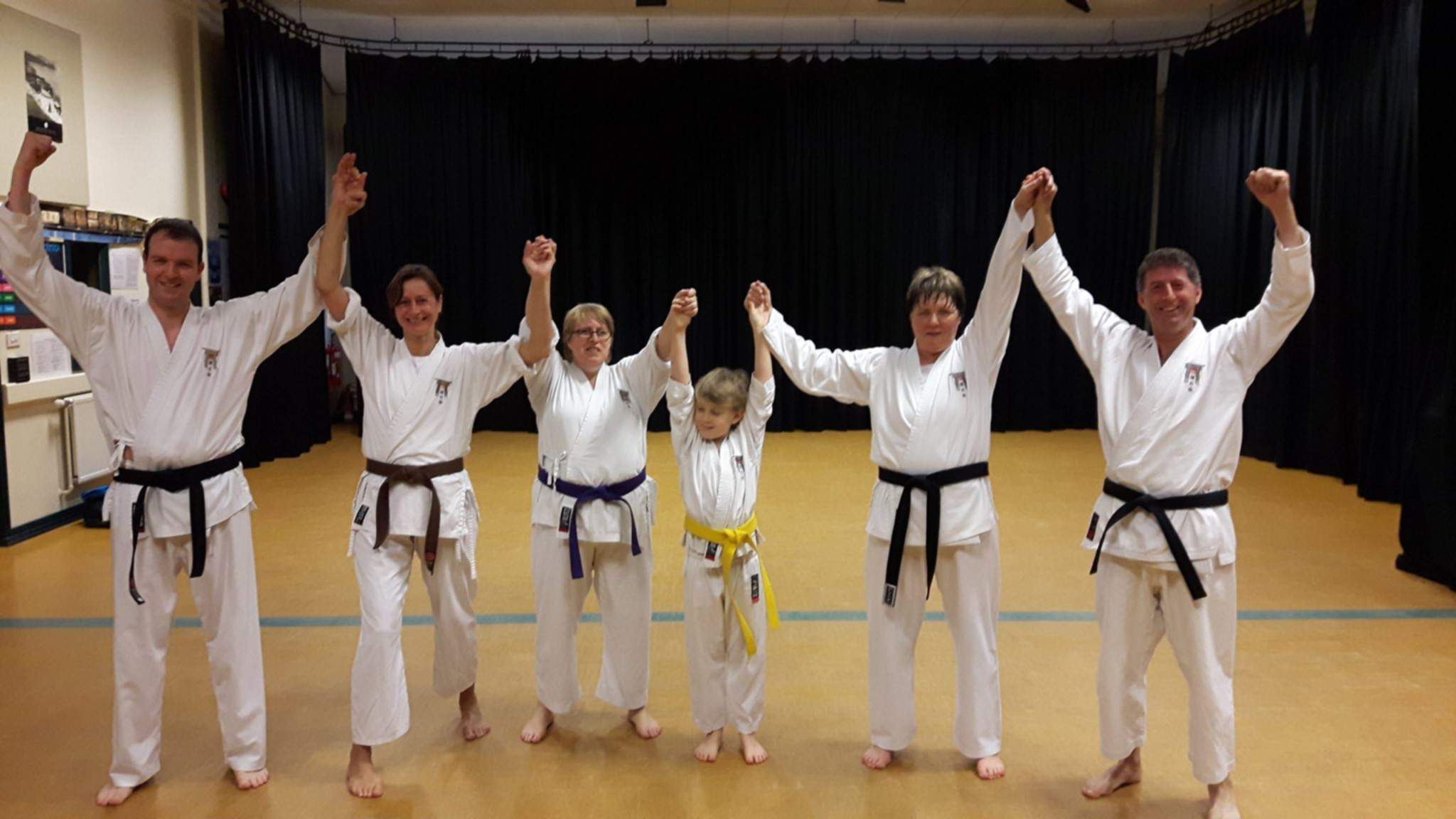 Member #416, August 2004. That was when Lee came to join us. He was already a Karate-ka, though. He, like many of us, had already had some training, been awarded some belts, and looked at other arts. We are honoured, then, that he chose to stay with us at Keikokai.

Lee is an individual. He teaches differently to anyone else, and students love him for it. He started out training in our Torquay dojo, and these days he is a yondan (4th degree Black Belt) who teaches at the Torquay dojo.

As he wrote in our 15th Anniversary book: "The thing I love about my training is the variety of students that I have had the pleasure of training and learning with over the years. They are like an extended family, and the different experiences, shared with them, are an invaluable part of my life."

Lee is a father and grandfather, renowned for his patience, and you can find him teaching alongside Sensei Jim at Torquay dojo on
Tuesdays at 6pm. He also takes private lessons, supervises the trainee instructors, and is a valued member of the grading panel.

Come and join him.
Yondan as he flows like water, fabulous instructor and great to train with.
Our quiet all seeing Sensei.
Has a soft approach like Sensei Neil with great ease and a controlling manner. Proud to have Sensei teach us
- Jim Wight sensei, 3rd dan.
Sensei Lee is an amazing Martial Artist and teacher. I have felt at ease with him from the day I started training. He always brings out your best potential and leaves you feeling inspired. I always feel a better person for being in his presence, on and off the mat. If you get the chance go and train with him you will not be disappointed. Proud to have him as our Sensei.
- Clare Potter sensei, 3rd dan.
Sensei Lee. Love his style of teaching. Always makes you feel good about yourself and your abilities. He inspires me to want more from my training and encourages you to discover more about yourself. He has a way about him that makes you feel comfortable and relaxed in his class so you can learn like a sponge. I love watching him teach and train and get excited when he is my training partner. A man of depth.
- Natasha Barlow sensei, 3rd dan.
Sensei Lee makes you look at your art differently, but he also makes you look at yourself differently. Alongside his gentle but clear way of teaching, he leaves you questioning a lot of what you normally take for granted. Which is a Good Thing.
- Andy Power sensei, 2nd dan.
Sensei Lee,my first instructor when I started training eight years ago.Always ready with a smile and warm welcome when you enter the dojo.Although softly spoken and with a gentle nature,never underestimate him as a very capable Martial Artist.Sensei Lee has a unique way of teaching and getting his point across.A great Instructor, who along side Sensei Jim has so much to offer the students. Come along to Torquay dojo and find out for yourself . X
- Janet Drew, instructor in training, 2nd dan.
Sensei Lee is a calm and approachable person who has always had a respectable atmosphere in lessons. He has always tried to make karate a more personal experience by spotting errors and fixing them while helping you to think for yourself and for your peers. It has always been a privilege to train under his experienced eye.
- Adam Castle, instructor in training, 2nd dan.

Sensei Lee is one of the nicest guys you will meet, soft spoken ,a true gentleman and a fantastic martial artist.
He explains things in a different way to make it easy for you to understand. I have had the pleasure of having Sensei overseeing my teacher training and he has made it really enjoyable and also makes you feel at ease. If you get a chance get to Torquay you will love it and definitely won't be disappointed .
- Carl Tilling, instructor in training, 1st dan.
January 2018:


Richard Carrick
Karate can be a very long road. The term "sensei" usually translated as "teacher" is used for Black Belts, and really it means "one who has gone before". It denotes that we are all on the same path, and that the teacher has gone further. This month we are looking at a gentleman who started out on the path a long time ago. He's been practicing for more than 30 years, having achieved his shodan in the early 90s. In that time he has been part of different groups, and we are proud to say that he has been with us in Keikokai since 2005. Nowadays he is ranked yondan (4th degree Black Belt).
When you come to one of his classes, you are guaranteed to get a work out. You will also receive technical correction. Richard is a hard task-master and demands high standards of his students. That's why they love him.
He's tough. He's also got a wry sense of humour.

Richard has driven across the country to ferry Sensei John to seminars in Surrey and Essex, and the two have trained together under teachers like Kanazawa sensei, Terry Wingrove hanshi, and Patrick McCarthy hanshi.

You can find him teaching in Kingsteignton on Fridays at 6pm, and in Newton Abbot Monday at 6pm. He also often takes private lessons and is a valued member of the grading panel.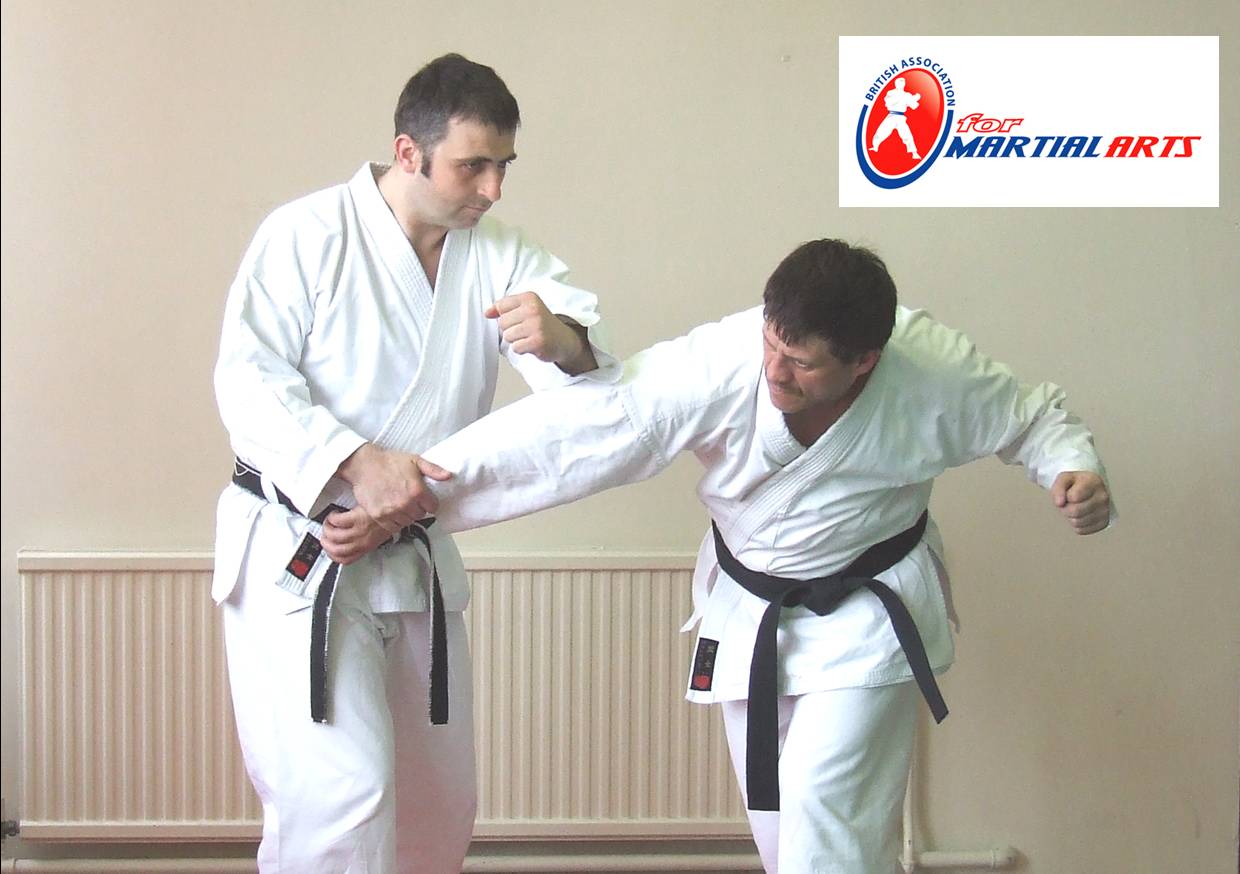 Come and join him.

"I have had the privilege to train with Tashi Richard Carrick throughout his journey at the Karate Academy. Undoubtedly he has been a big influence in my own and others training. With a no nonsense and clinical approach to training, he will help you unlock your own potential and style. A knowledgeable and able karateka."
- Lee Warren sensei, 4th dan.

"Sensei Richard has been and still pushes our boundaries when we train together, he is one of my hardest challenges to train with for which I am greatly appreciate.
His help and feed back is also something I take as a positive aid to my improvements from Tashi as a committed and dedicated member of our Bama members."
- Jim Wight sensei, 3rd dan.

"If you want to make your karate special to you, if you want to be the best you can be, then you will want to achieve it the right way. You can do this by training under Sensei Richard. Sensei Richard has taught and inspired me from the day I started and continues to do so."
- Clare Potter sensei, 3rd dan.
"an instructor that expects the best and makes you want to be the best student that you can be. I have learnt a great deal in the years that I have trained with him."
- Natasha Barlow sensei, 3rd dan.

"A serious taskmaster. When you train with Sensei Richard your ability to give yourself an easy time, to make excuses to yourself, to think 'yeah, I'm going to work on that later', is undermined. He expects a lot, and then leaves it up to you to either wither away or to up your game."
- Andy Power sensei, 2nd dan.

"Always a privilege to attend a Sensei Richard lesson or to get Sensei Richard for a private lesson.Great technical instructor who calls it as he sees it.x"
- Janet Drew, instructor in training, 2nd dan.

"A sensei who I have had the privilege to train under the perfecting eye of for many years, right from my very first lesson he is somebody who will always tell you if you are doing something wrong, while always keeping the martial spirit."
- Adam Castle, instructor in training, 2nd dan.

"Sensei Richard is always willing to help with any questions you ask , spend time to show you and break things down .
He a true perfectionist with everything he does in his Karate and a pleasure to train with "
- Carl Tilling, instructor in training, 1st dan.